Man's best friend could help cure man's greatest scourge
A new book about dogs in cancer research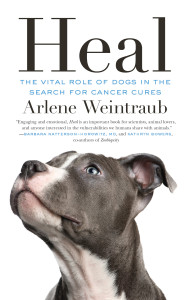 Drawn from extensive research, on-the-ground reporting, and personal experience, this book explores the fascinating role of dogs in cancer research. Learn how veterinarians and oncologists are working together to discover new treatments — cutting-edge therapies designed to help both dogs and people suffering from cancer. Heal introduces readers to the field of comparative oncology by describing several research projects aimed at finding new therapies for cancers that are similar in dogs and people, including lymphoma, osteosarcoma, breast cancer, melanoma, and gastric cancer.
Weintraub, who lost her sister to gastric cancer, also writes about the emerging science behind the remarkable ability of dogs to sniff out early-stage cancer, and the efforts underway to translate that talent into diagnostic devices for early detection of the disease. In the course of bringing these dogs and their human companions to life, Weintraub takes her own personal journey from grief to healing, as she shows her readers how man's best friend might be the key to unlocking the mysteries of cancer.
Read an excerpt at Salon.com.
Listen to an interview about the book here:

Purchase at ECW, Amazon or Barnes & Noble.
A portion of the author's proceeds from Heal will be donated to cancer research for both people and pets.
Media requests: Sarah Dunn, sarah@ecwpress.com